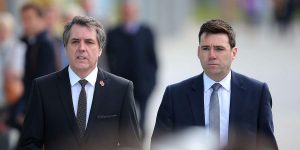 A Cunting for the ongoing saga of the Covid whingers, the Andy Burnhams and Steve Rotherhams of this world.
All they do is complain rather than actually doing some fucking constructive, whatever is decided about the response to Covid you can't have every cunt on the committee, nothing would happen.
I listened to Steve Rotherham (Mayor of Liverpool) and all he kept saying was he wanted to work with the government and he said he agreed with tougher restrictions, so why is the cunt complaining about no being consulted (when he actually is). All you and fucking Burnham need to do is to implement whatever restrictions are imposed.
And, why are the restrictions necessary, well Steve and Andy it's because your pig thick communities are too thick to carry out simple fucking instructions.
PS.
I know there are many who oppose Anti Covid Restrictions but they are here and more are coming so the faster people actually apply them the faster it gets back to some normality.
Nominated by: Sick of it 
.. and a late entry from Colin Murray's Brain 
Andy Burnham is a cunt.
He's carping about "The North" being mistreated for being put under a tier-3 COVID lockdown even though only parts of said North are under this level of restriction. YET, he is demanding the whole ****ing country is placed under an immediate lockdown that will bring even more misery and economic chaos than the tier-3 stuff Burnham's moaning about.
On top of that Burnham is moaning bout GM getting just £22million, when apparently he turned down the PM's offer of a £60million-plus deal. The grandstanding prick turned down the money, and is now moaning about GM not getting the money!
The big question is – what is Burnham playing at here? Dividing England into "regions" has long been a pet project of Labour's, and sowing discord between "The North" and "The South" (especially when there's Evil Tories to point the finger of blame at) is a good way to get the unthinking mouth-breathers on-side.
Christ, Burnham's a cunt. I hope others agree too.
… and a related one from Cuntstable Cuntbubble concerning Boris fucking Johnson.
After 10 days of ridiculous political posturing by scouse Thunderbirds lookalike Andy Burnham, a lockdown has been imposed on Manchester.
It is obvious that MCR wasnt going to get preferential treatment and that Burnham was playing to the crowd. Yet Boris humoured the cunt.
But what really wound me up was that Boris had the perfect forum to roast the fucker for his pointless posturing, playing games with lives, but didnt. Trumpington would have flayed the fucker alive. Burnham was allowed to justify his ridiculous position and Boris said nowt, giving Burnham the final say.
Jellyfish indeed.