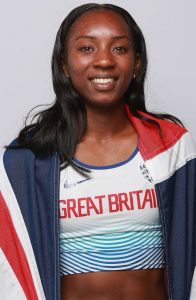 A Strap On cunting for the Met Police Witch Hunt.
Remember the saga of Bianca Williams and her partner Ricardo dos Tospot, stopped by the fuzz in their Black Merc with tinted widows, well after not one but two reviews there was no misconduct by the five officers involved.
The Met are not happy with this, maybe because we have a black British sports woman Involved, they have referred themselves to the IOPC, so these five officers will now be investigated.
An absolute witch hunt for nothing more than a stop and search, what the fuck are they thinking, if officers have suspicions about a vehicle they are entitled to investigate, maybe fucking useless Suckdick Khunt should come out and support his police force for a fucking change.
Had the driver and passenger been white absolutely nothing would have come of this, it's all about fucking black privilege.
cunts!
Nominated by: Sick of it 
https://www.bbc.co.uk/news/uk-england-london-54466254
...and speaking of the Met Police, here's something from Jack The Cunter 
A ' Big Brother is Watching You ' cunting for the Met. Police. This dysfunctional, not fit for purpose, and hopelessly ' woke ' organisation, is now, really starting to go full on Orwellian.
A journalists job is to investigate, interview and report, ideally in an unbiased way. Some are better than others. How they can be held accountable for what someone else says, I, for one, do not know. What I do know, is that I find this story very disturbing.
Whatever happened to freedom of speech ?
https://www.telegraph.co.uk/news/2020/10/09/darren-grimes-police-investigation-david-starkey-interview/
..and something about Cressida Dick from CuntyMcCuntface
Fuck where do you start on this pint sized, licks every box, rug munching serial fuck up.
Not content with ordering the assassination of a wholly innocent Brazilian fare dodger, Dick finds herself elevated into one of the most powerful jobs in the land as Head of the institutionally racist Metropolitan Police.
Given the fairly well founded allegations of corruption and racism you'd think surely Dick would set about cleansing the institution or maybe just have a cursory attempt to do something about the 24 hour Stabathon's that blight Londonistan?
Don't be stupid.
Fuck that. No no no. Instead Dick has sanctioned an investigation into Darren Grimes (remember him and the electoral commission) for apparently 'stirring up racial hatred'.
In an interview with David Starkey back in June he asked Starkey's opinion on the BLM movement.
Starkey's comments were widely reported at the time and he lost a couple of book deals and fellowships as a result.
Darren Grimes, a journalist, was asking for an opinion from the interviewee but he now finds himself the subject of an investigation.
When you start arresting and questioning journalists for asking an opinion you know you've reached a turning point.
No more 'oh it's all being blown out of proportion' deflection tactics, this really is the Stasi at work.
What the fuck is happening to my once great country?
https://images.app.goo.gl/Mtp5f4HkMGBMPaqp6
…and even more!! This time from Ron Knee
The Metropolitan Thought Police
A 've haff vays hoff making you talk' cunting for the Met, which is showing an alarming tendency to regard itself as Britain's version of the Stazi.
Young blogger Darren Grimes has been told to attend a police station for an interview under caution. His 'crime' was to post a podcast of an interview with Dr. David Starkey, in which the historian stated that slavery was not genocide 'because there are so many damned blacks'.
Starkey has since apologised for his remarks, but the Met. Thought Police, in its infinite wisdom, appears to be taking the line that Grimes is responsible for stirring up racial hatred.
Priti Patel, Sajid Javid and Tim Farron are among political figures who have sharply criticised the MTP for its bizarre pursuit of young Grimes. Former Director of Public Prosecutions Lord MacDonald has called the scuffers' actions 'sinister and foolish', and 'a political stunt'.
Things have come to a pretty pass for freedom of speech when the police seem to think that an interviewer should be held accountable for views put forward by an interviewee. The rozzers' actions prompt an obvious question; why hasn't someone at the BBC also been called to account for the 'kill whitey' so-called 'joke' by so-called 'comedian' Sophie Duker? Careful Dame Cressida, your double standards slip is showing.
Talk about a waste of police time. Nevertheless, it would be fun to see an attempted prosecution in this case. It would surely be horse-laughed out of court. What a fucking 'woke' joke the police are becoming.