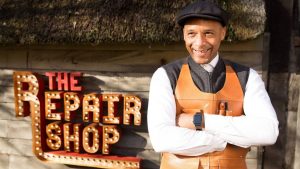 The Repair Shop is a great programme, and is one of the few I watch on AlBeeba. The quality of the craftmanship is incredible and is of course performed by our non-diiverse citizens, who have years of knowledge and experience to have honed their skills.
Being the virtue signalling cunts they are, the BBC fuck it up by having this grinning floppy present it.
He makes out he is in charge – he greets the punters with their broken kit, and the expert whitey fixes it using whatever unique and high quality skills are required. Said grinning loon then meets the punters and takes the credit for the high quality workmanship, when he does fuckall (I will admit that in one episode he swept the floor, saying "I will make myself useful". Yeah, that's about the ceiling of his "skills". Obviously the woke Al Beeb producer hasn't let him do that again).
He's probably a terribly nice chap, but in allowing himself to be the face of diversity whilst contributing the square root of fuck all, Jay Blade you are a cunt. And he wears a fucking silly cap – double cunt.
The BBC are still cunts, but what do you expect…….
Nominated by: Big Al