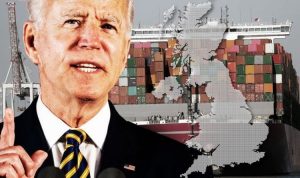 A Stars and Stripes cunting please for the shitstain on the underpants of American politics.
The demented Mr B, who has decided, Obama-like that Britain, with whom they have a "special relationship" will put the UK "at the back of the queue" for a trade deal because the old coffin dodger is upset about Boris' attitude to the EU:
https://www.express.co.uk/news/politics/1333724/Brexit-EU-row-Joe-Biden-Northern-Ireland-US-UK-trade-talks-latest-news
We can only hope the old cunt's carer comes and picks him up before November, and what the fuck has our attitude to the EU to do with that old dodderer?
Nominated by: W. C. Boggs
Seconded by Smug Cunt
Id like to nominate Trade Deals as a bunch of bollocks, cuntish bullshit.
We have been trading with North America for four hundred years without a trade deal.China trades with the cunting eu worth trillions without one.
Guess what, people trade, its never been easier and governments have fuck all to do with it anymore, unless your a big business (keep everyone out of our market cunts, who make up all the rules) cunt.
I can get something sold and sent to Tasmania within a week by post. I can trade with Vietnam, although you have to fill out a form as they dont like imports from their customers. That took 5 minutes.
Trade deals are just politicians show boating as everyone else just gets on with it. Fuck the eu and fuck trade deals. Stick all your globalist, "international law" up your arse………….(there are so many of them its impossible to make a list)