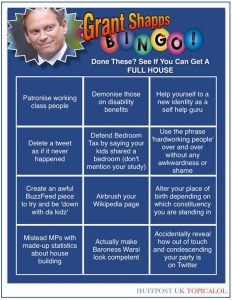 Inbreed tory toff Grant is bringing in measures to fine any vehicles parking on a kerb with a fine of £70.
He wants the pavements clear for pedestrians, baby buggies, mobility scooters, and has a thing about 'cycle lanes' the chinless little cunt loves them!
Now I regularly park on pavements not because im a cunt (am a bit!?). But because on some roads and lanes in Derbyshire & Cheshire if I didn't I'd block the whole road off!
Now this greedy little tory toad sees it as a quick earner but for people like me, all I'll do is tell my customers I cant do the job unless they pay the parking fine,
So wont effect me but will effect others, including elderly people who have home delivery from supermarkets etc.
How about instead of taxing the people who voted you into power you fix the fuckin roads and tax cyclists in the form of licenses and road safety tests and insurance?
Grant, you ginger posh twat hope a HGV ploughs through your rentboys bungalow you tory twat!?
Nominated by: Miserable Northern Cunt 
(TBH, when I first saw his name I thought it was some cheap German beer! – DA)