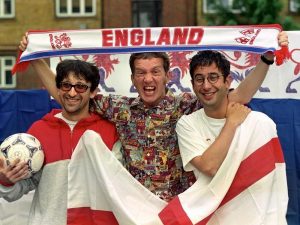 Apparently according to David 'Rule Britannia is a 'cunts anthem'.
Perhaps the irony is lost on Badiel that he's widely seen as one of the biggest cunts within the world of 'entertainment' today.
If you take a cursory look on the Internet you'll find it's difficult to see the cunts comments in context (He's a lovey you see) but then up pops his Twatter page and it turns out his comment was in response to Nigel Farage singing Rule
Britannia because Al-BBC decided to drop the lyrics from Last Night at the Proms.
The cunt says…..
There might be some who feel a little sad about Rule, Brittania, seeing it, now divorced of triumphalist origins, only as a Proms tradition. Watching this however makes it clear how it's still basically a Cunts Anthem…..
Back in the day there was a Labour politician called Gerald Kaufman, my dad hated him and I never really knew why.
That said my old man had lots of irrational hatred, in fact I think my first nom that got posted was on his irrational hatred of Elton Welsby.
So back to Kaufman. Every time his face popped up on TV he'd say 'Hitler missed one there'.
Maybe he was right, who knows but I'd like to add Badiel to my Dads less irrational hatred list.
How many types of cunt do you have to be to record a song called '3 Lions', the chest thumping, rousing anthem that makes you proud to be English, then go on record to say 'Rule Britannia' is a cunts anthem.
Badiel is the sort of Jew that thinks Israel is the oppressor. He's the type of Jew that would have been a collaborator (IMO). He's a shit stain on the outside of your pants that everyone laughs at.
He's a crooked nosed metro liberal that's made a living out of other people's talent but let's not be surprised by that, it's in keeping with his national identity.
Hopefully in the world of how to out virtue signal your sleb mates he'll take in a family of (Muslim) 'asylum seekers' who'll show him the edge of a roof of a very tall building.
Nominated by: CuntyMcCuntface