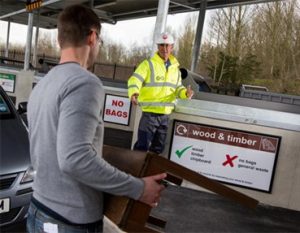 A massive cunting for Councils, Nazi recycling centre companies and recycling centres, that's council tips to you and me, except they aren't run by the Council anymore as they've farmed it all out to private Nazis.
Councils, the media and the public seem to be surprised that there is an increase in fly tipping recently. Well, the increase is not surprising really as due to Covid 19 accessing the tip to get rid of your rubbish has been made even more difficult.
One tip near me needs a payment for every time you go there, another checks where you live by asking for your postcode so that they can be sure you are not travelling out of your area to get rid of your rubbish and another needs you to register (online) a slot on a particular day for a particular type of rubbish. Turn up, for example, with cardboard AND scrap metals and you are turned away and you lose your slot and can't get rid of any of your rubbish at all.
All this in those places where the Nazis, sorry "workers" aren't at risk as they work outside and never get close enough to anybody to help them anyway. What The Fuck?
Ever since the increase in regulation and guidance regarding getting rid of waste over the past 30 years or so, not just the current CV19 era, (I refuse to call it a pandemic but that's another story), the problems of getting rid of waste has escalated. I wonder if there is a link between ever greater regulation, rules and complexity and the increase in fly tipping. Maybe reducing the rules would reduce fly tipping? But that would require Councils and the companies thinking I guess.
If the UK were really interested in recycling and cleaning up this country, every community would have a tip that is open 24 hours a day, 365 days a year where anyone can tip any amount of anything for free. Then the Nazis, sorry "workers", sorry operatives, could do their job and sort it out for whatever purpose.
Cunts the lot of them.
Nominated by: Glorious Clitorious