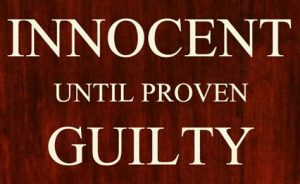 .
When the police arrest someone and they're due to appear in court, the media will sometimes publish the defendant's name before they've even been convicted.
Admittedly, a judge or the police themselves can withhold names. And for particular types of crime (rape allegations being the key one), the victim's name is also withheld.
However, it still means that until found guilty, the accused could face having his/her name published across all forms of media, including his own Facebook page. This will no doubt arouse surprise, shock, anger etc. even though he still hasn't been found guilty.
I mention this because I read in the local paper of some guy in Whitehaven who has been arrested and is due to appear in court accused of making 10,000 indecent images involving children. The article also mentions his full name, age and his general address.
If he is found not guilty, he is going to have to carry the stigma of being a "pee-do" around with him even though he's innocent. His family, friends and possible workmates will always be suspicious.This could even lead to his own suicide!
My point being: should all names be withheld until the court has returned a verdict? If he is found guilty, then fuck him – throw him to the wolves. But if found innocent, then he should have the right of anonymity.
Nominated by: Technocunt