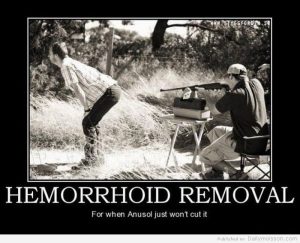 Don't continue reading if you're about to eat! – admin
I've been suffering big time lately with my Plymouth's.
Every time I wipe my arse, it looks like the Japanese flag or even worse, the Chinese.
Having to push the fucking things back up your ring. Shoving the suppository up waiting for suction to do the rest. Delightful. The fuckers even wake me up in the middle of the night, throbbing like a thumb hit with a hammer. I'm actually walking like John Wayne if HE had piles.
Oh for the bliss of a clean nip after a shit, one wipe and all done.
Piles are a pile of cunt.
Nominated by: Bob Frapples