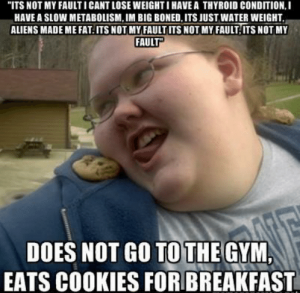 Obesity is No Longer the Responsibility of the Individual
I just read in The Daily Fail that 876,000 people went to a UK hospital last year for being obese, either diagnosed as obese (primary problem) or their obesity was causing problems such as joint problems (obesity was secondary but the cause of the admission.) The figures came from NHS Digital which I checked weren't misreported in The Fail.
Staggering statistics and makes you want to shout 'stop eating all the pies' but nowadays you can't say obesity is the fault of the individual or that it is down to the individual to lose weight. In fact, this was the conclusion of a study backed by the government as long ago as 2007 http://news.bbc.co.uk/1/hi/health/7047244.stm
There has been a move away from personal responsibility and doctors are arguing that obesity is either a disease or an addiction and certainly not the choice of the individual. https:www.thesun.co.uk/news/9527772/obesity-disease-epidemic-not-choice/
I also found this https://www.bbc.co.uk/news/health-49795808 where a report by 'top psychologists' again say obesity is not the fault of the individual and trotted out the old cliché that poor people don't have access to healthy food!!! Are you really telling me that a carrot isn't cheaper than a bag of chips and that Lidl don't sell fruit and veg?
I've just learned my local council estimates a revenue loss of 6 million quid this year due to the impact of SARS-Covid-2 but they still have a 'wellness team' on their payroll waiting to help you to not be fat. What a complete waste of money and my council tax contributes to that. There's likely wellness teams up and down the country! Then there's the cost of legislating for fatties – sin taxes on sugar for example. The Daily Fail article said Boris will be unveiling a plan to combat obesity – no doubt this means yet more money will be found from Rishi's magic money tree that we'll have to pay back in taxes. Some figures estimate 15% of the health budget alone could be spent on fatties between now and 2050.
When Katie Hopkins came out in 2015 telling fatties they just 'need a kick up the arse' she was denounced as a cruel 'fat shamer'. I seem to remember Hopkins on the This Morning show saying she would put on a load of weight and then set about losing it thereby demonstrating just how bloody simple it is with a bit of effort. Then came the parade of the weak complaining 'waaah, you're horrible, I'm fat 'coz its genetic.'
The world has gone mad and the politically correct approach is to call someone who is grossly fat as 'a person living with obesity', its not their fault, its because they're deprived or they are victims of the obesity epidemic. There you have it, this is just PC bullshit from liberals. Fatties are victims and the State is responsible.
And on that note I'm off for a long walk with the dogs.
Nominated by: Cuntologist