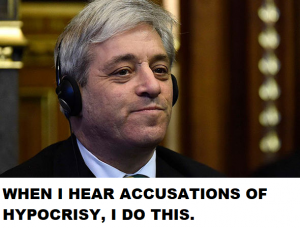 Bercow is a hypocritical cunt.
Having finally left the commons, I actually thought this nasty, deranged, dwarf of a cuck would slither off into obscurity. No such fucking luck. He's come out in defence of Julian Lewis, the so called Conservative MP, who plotted against another Conservative with Labour and the SNP to steal the Chairmanship of the commons intelligence and security committee from Chris Grayling, the government's preferred choice. Now, granted, Grayling wouldn't be my first choice for anything, but to actually plot with opposition MPs to get a Chairmanship, purely for your own advancement, you've got to be a cunt.
Well, the government responded to what I consider an act of treachery against one of his fellow party members, by withdrawing the whip from Lewis. Now Bercow has responded to this by calling the government "spiteful and malicious". Excuse me? What the fuck did you just say, you nasty little dwarf? YOU, of ALL people, with a reputation for being an arrogant, entitled, bullying twat. YOU, who spent 3.5 years actively trying to erase the democratically expressed will of the British people, are going to use the words "spiteful" and "malicious" against others? Fuck off.
You toxic midget. You fucking hypocrite. How dare you call out anyone on their behaviour after what you've been accused of? It seems to me that little Bercow, despite his claims that he wasn't bothered that he's the first Speaker in centuries not to be automatically granted one, is still hugely butthurt about not getting a peerage. And let's face it, when you're dealing with an ego the size of Bercow's we're talking nuclear explosion levels of butthurt. Try some Anusol, you fucking hypocritical cunt.
Nominated by: Quick Draw McGraw