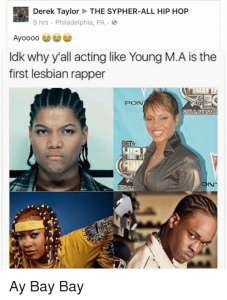 Being a curious cracka i decided to investigate who these people are. The Nicky Minajs and Cardi B types who the Mail Online publishes risque pictures of. They're not all black, so this is not about race. I've seen some grotty white girls acting like this.
I think Hip hop is crap as a genre but its even uglier when performed by these nasty bitches, where every lyric is a N***a or a curse, or a reference to genitals or body parts.
I cant stand the ugly attitude they have, either. I'm pretty sure corporations promoting this garbage is contributing to the ever-worsening mental health of girls and young women. Dress, speak and twerk like a whore? Get ready to be treated like one. Porn Hub, or Dignitas, awaits.
Repulsive cunts.
Nominated by: Cuntamus Prime