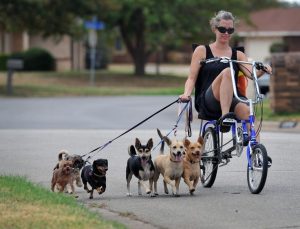 Since the lockdown, I have noticed a lot of these cunts about. Tearing along the road with a poor mutt on a long leash trying to keep up.
Although I don"t own a dog, I and Mrs C have been  dog-sitting for three weeks every year for some time.
My experience in walking the said beast, is that  it likes to spend a lot sniffing about and generally wandering about at it's own liesure.
I find it verging on animal cruelty by these "me, me, me" cunts who make their pets run full pelt along with them.
Ride your bikes by all means – but on your fucking own!
I also include joggers running with dogs in this cunting.
PS. My sister saw one of these cunts come off his bike when the dog suddenly stopped for a sniff and wrapped the leash around a tree. Ha! Fucking! Ha!
Nominated by: Cuntalugs