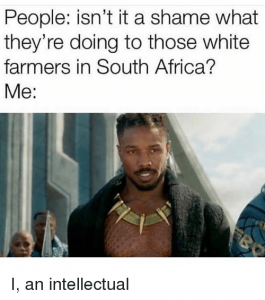 As I type this thoroughly scathing cunting about the "new" South Africa I'm reminded of one major thing about rainbows, there is of course no white in a rainbow, you hear the easily led of the Marxist persuasion saying how awful Apartheid was.
Well in the "new" kaffer controlled South Africa they in a way have still got apartheid, because if you happen to white, you're not African despite being born there, some of the Boer families go right back to the 1652 settlers.
Meanwhile in Blighty you fall off a rickety dingy and you're pretty much made for life probably with fast track citizenship, and wo-be-tide any cunt who doesn't agree, apparently the thick cunts have learnt nothing from neighbouring Rhodesia (called Zimbabwe now or something), chase off whitey, fucking starve and then beg them to come back.
I know a few white "saffas" and I can say they're the most straight talking, honest and welcoming people I've ever met, white farmers are murdered on an almost daily basis, not just shot but tortured for hours by hoards of "tar brush cunts". But do we hear about it on MSM, fuck no because they don't give a flying fuck about whitey as long as M'Tebe doesn't have to drink bison piss or walk a few miles for it,
I don't know if it's true but the late Rhodesian prime minister Ian Smith is rumoured to have "I told you so" engraved on his tombstone, the man knew the African inside-out and knew they were incapable of sophistication to pull off a first world economy, but was villianised by even their own kith and kin in Britain, so I'll finish by saying the "new" South Africa what an absolute cunt to man and beast!
Nominated by: Captain Quimson