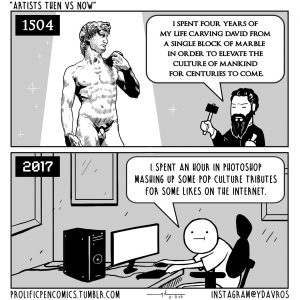 A nomination for pop culture.
I know it's subjective, and i used to think Will Self was being his usual sneering gargoyle persona when he said it was objectively crap (he was referring to rave culture and what followed). I agree with him about rave culture in some regards, but 'objectively' crap? It entertained some and involved some young adult behaviour.
I think his statement is a bit more accurate these days. Pop culture struggles to even entertain its target audiences, let alone rising to a level you could call art, be it chart music, films, games, comics or TV.
It's a sea of uninteresting mediocre wank suited to gormos on social media, what the commentator Paul Weston called 'Epsilon Semi Morons,' with their foetal understanding of the world and desire for more episodes of Love Island and Pixar 'films'. These are not just the Zoomers or Millennial cunts, but Gen X cunts older than myself, crying over trailers for blockbusters like StarWars and Sonic the HedgeCunt.
I understand the desire for escapism more than most but, fuck me, must it be a cartoon (and not an adult-orientated one)? Must it be a film with a script written by a man-child where stuff happens just because it's 'cool and intense' (JJ Abrams on Cloverfield)?
Must it be woke dogshit with no plot and cast with ridiculous 'types'; the young black girl who can do everything and knows more than a 40-year old white bloke?
Must it be a game – be iit computer or tabletop- where you pay for upgrades to your character or team in real money with no end goal other than 'levelling up?'
Must it be books aimed at 12 year olds with special covers for adults, or books so poorly-written and bogged down with references to eighties crap it has no narrative flow or literary style (see Ready, Player One, a 'must-read' for hipster cunts of my vintage).
Perhaps. If you find it entertaining. But please not because every cunt is doing it. This stuff is for fucking kids.
Pixar, superhero films, Candy Crush and other bleep-blop shit, Harry Potter books, comic books, online video games with 'pay to win' elements, those shoddy cartoons on Netflix.
It's all for fucking kids, but it's gobbled up by cunts, and a lot of them are too old to be called millennials. They have kids of their own. They use terms like 'adulting'.
They're asking for endless abuse.
Cunts.
Nominated by: Cuntamus Prime