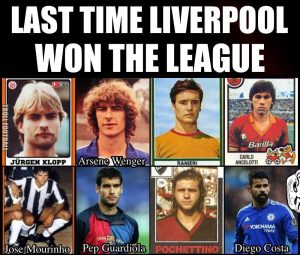 Ok, they won some championship title thing, don't know about it, not interested in football – but in the middle of the pandemic, what do they do? They all flock in their thousands to the stadium to celebrate, all leaping up and down and hugging and going on about how it's the greatest day in their life and how special it is to their heart yada yada…Just like the Bournemouth beach invaders yesterday, a load of ignorant irresponsible cunts.
Oh and Sky news are also cunts (as per usual), for making this their lead story and going on about it for about ten minutes.
Nominated by: Mystic Maven
——————————————————————————————————————
Liverpool fans
Are cunts. To be honest, anyone still watching the Premier League is a cunt due to them doing the black power salutes. But I digress.
One of the reasons given by many for not finishing the season yet, was that the Liverpool fans would break the rules and gather at the ground once they won the title. If you went on any football forum or thread before (and during ) the 'restart' , every one of these scouse cunts was saying, "We're not fuckK(goz)in' stoopid laa, weez not gonna do dat yer just sayin' it coz yooz just a sad 'canceller' innit calm down calm down deydoododondeydo" etc.
Well lo and behold, as soon as the fucking whistle blew to confirm the title, the fucking scally cunts turned up at Anfield in their thousands, as predicted by every cunt with more than one brain cell. Of course, that scouse cunt MP/Mayor or whatver his is (my research is flawless, but it was some scouse cunt) will be moaning again about how it's affecting the scousers more than other soon once these pricks pass it on to other cunts.
Same with other protesting mobs lately and those asstwats at the beach. I don't want to hear our 'government' moaning about the inevitable upcoming spike in the next 5-8 weeks or so. Perhaps if they'd forced the gutless cops to wade in and smash a few skulls and tell them all to fuck off home, a few thousand lives might've been saved? Just a thought, you useless cunts.
Yes, we need to get back to work and all that shite, but fuck me. This country is asking for it when the government allow this insanity to continue. No fucking point in any of this lockdown shite if this is allowed to go on because 'racism' or 'celebration' or 'street party' (lol). I might organise a mass protest because Wagon Wheels keep getting smaller. Who's with me?
Piss off.
Nominated by: Cuntybollocks