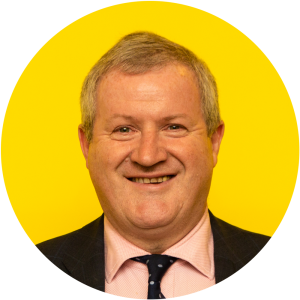 Found a pic of the accused. Caption: A picture of some piss….on a yellow background – Admin.
Ian 'Bloater' Blackford.
Oh dear. What a shame. How sad. It appears that the delicate sensibilities of the rotund SNP arch-Remoaner have been bruised during an encounter in the House of Commons.
'I'm getting a bit fed up' whined the Westminster Windbag after being jeered by Tory MPs and labelled 'self-indulgent'. A BIT fed up did you say 'Bloater'? Looks like you've been getting really fed up to me, you fucking hot air balloon.
As a taxpayer, I'm given to wonder just how much of your exhorbitant expenses claim is given over to keeping you in haggis, pizzas, fish suppers and deep fried Mars Bars. All together now; 'who ate all the pies? Who ate all the pies? You fat bastard, you fat bastard, you ate all the pies!'.
Do us all a favour, Bloaty McBloatface. Awa' hame an' throw shite at yersel'.
Nominated by Ron Knee