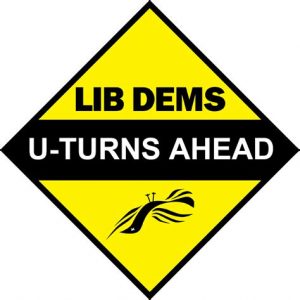 The Lib Dems are another deserving nomination. Oh boy, these fuckers are a political open goal. Following on from the kicking they received at the hands of the British electorate back in December, the Limp Dims carried out an investigation into why they failed to win the 200 plus seats that political whore, Chuka Umunna claimed they would win. Well, the report has just been published.
According to them, they didn't lose because their manifesto was shite, and their leader, Jo Swinson had less charm than a three week old pile of dog shit. No. They lost because us voters are a bunch racists and misogynists. Even the women are misogynists. They reckon that it takes a female leader about five longer than a man to gain traction with the male half of the electorate. Which is complete and utter bollocks. The fact is, Swinson wasn't popular, because she's a twat. Everywhere she went on the campaign trail, she dementedly shouted about how she was going to reverse the referendum and stop Brexit. She knew full well that the majority of British people wanted Brexit, but no, we were wrong and she was right. It got to the point that even some Lib Dems were telling her to shut the fuck up. It's also a simple fact that whenever she met ordinary people, she actually became LESS popular. That's because she came across as an arrogant shitweasel with an overblown superiority complex. Which she is.
None of that matters though, because it's OUR fault they lost. Well you know what Lib Dems, tough shit. That's democracy for you. You'd think a party that actually has the word 'democrat' in its name would understand the meaning of it. Then again, they are neither liberal democratic. They need to change to it. Islamopandering Anti-British Fucktard party sounds more appropriate.
Nominated by Quick Draw McGraw