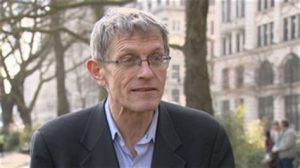 SIMON CALDER:
An Around-The-World-In-80-Days, No-spitting-on-the-upper-deck,leave-the-lavatory-as-you-would-wish-to-find-it-lift-the-seat and don't-use-it-when-standing-at-the-station cunting please, for The "Independent" (sic) Newspaper's Travel correpondent, and one of Wireless 4's most favoured sons, teh prissy, purse-lipped-four eyedold woman. There is old Auntie Calder on the midday news, there he is again on You & Yours, yet again on Money Box and any time day or night when the talk turns, however vaguely, to travel (and who is travelling at the moment, apart from rubber boat fetishists?), on news programmes – you name it, there is the fey Mr C. holding forth.
Surely it is time that Calder, or the BBC itself, started training up an apprentice for when dear old Simon trades in his travel pass for his golden slippers.
Why does the BBC think only Calder is qualified to comment on travel matters and more importantly, why is Calder so vainglorious or greedy enough, to think he can take all the gigs?.
Nominated by W. C. Boggs