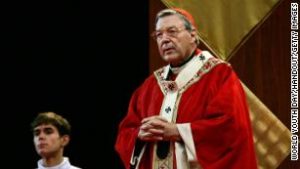 A cunting for this slippery, choirboy adoring, catholic clergyman.
This humble man of God, an advisor to the pope, has had his conviction for paedophilia overturned by High Court Australian judges.
A full bench of seven judges ruled unanimously in Cardinal Pell's favour, finding the jury had not properly considered all the evidence presented at the trial.
Let's ignore the evidence of the alleged victims, and the jury's verdict because clearly everyone has been misled in this case, and only the judges can be right.
The funny hand shake consortium strikes again.
Nominated by Duke of Cuntshire