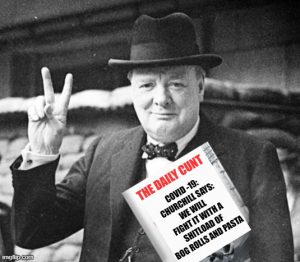 Older cunters may recall that this meme, based on the cheery keepcalmandcarryonitude of lovable Cockernees under sustained air bombardment by the Luftwaffe, persisted for some time after WW2, and indeed until rationing came to an end in the 50's. During rationing, incidentally, the UK population's nutritional status was never better.
In fact, the Blitz spirit consisted of the realisation that between a government with emergency powers and high explosive falling on you all night there was really fuck-all you could do about anything, and the only sensible alternative to carrying on – calmly or not – was cutting your throat. The number of suicides actually declined during the Blitz. Sense prevailed.
The same realisation is now seeping through the population as it faces the prospect of a slightly lethal infection and a light cull of the elderly and infirm. The number of deaths is predicted to be rather less than the number of civilians killed during the Blitz, but the economic impact (insert rant on the subject of globalised supply chains, crooked finance houses, stock market gamblers etc, etc) is probably going to be comparable, lacking the post-WW2 will to rebuild productive capacity and do something more useful than sell each other coffee.
However, the Blitz Spirit, as invoked by the tabloids, and implied by Johnson doing his daily Churchill parody, ain't going to happen. Our diverse, woke and increasingly criminal population has long forgotten the concepts of deferred gratification and stoic endurance in the face of having your street blown apart and having to eat whalemeat…and not much of that.
What prompted this nom was a dirty contractor's van outside. In the mud on the back was inscribed:
"No toilet rolls in here"
Which absolutely says it all.
Nominated by Komodo