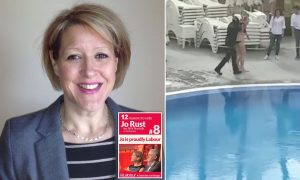 Joanne Rust deserves a nomination. Now I know what you're thinking. Well, it turns out that Joanne Rust is the ignorant dipshit who broke the quarantine rules in Spain, by taking a swim in the hotel pool and getting arrested for it. I was going to write this one off as just another entitled twat who thinks that rules are for other people. Except I recently found out that Rust isn't just another lowly member of the proletariat. No, it turns out that Rust is a Labour councillor, a Unison member and a three time Parliamentary candidate (lost all three times).
As a public figure, albeit a minor one, Rust should not only fucking know better, she should be setting an example to others by being seen to be following strict rules that were put in place to help slow the infection rate of a DEADLY FUCKING WORLDWIDE VIRUS!! But no, being a Labour slug, her attitude is that she can do whatever the fuck she wants. Well, as the Spanish police taught her, she can't. Joanne Rust, you are a cunt.
Oh yeah, a cunting for the fucking brain donor who rocked up in Spain a couple of days ago, for a 'sunshine holiday', despite knowing that Spain was already on lockdown. During a pandemic? Bitch, have a word with yourself.
Nominated by Quick Draw McGraw
I nominate Joanne Rust for a red flag waving, champagne Socialist cunting.
This detestable piece of wank rag was recently identified as the cunt who flouted the Spanish hotel and authorities by ignoring advice to use the swimming pool in Tenerife. She apparently was protesting because boo hoo she didn't get a fucking free upgrade to her room.
I hope the Spanish fuck her over royally and send her to jail on top of a heavy fine and is thrown out of Labour Party.
I have met this Harridan a Couple of times and can honestly say hand on heart she is THE most loathsome putrid piece of self serving shit I have had the non pleasure to meet.
Coronavirus if you are listening please fill your boots and give her your strongest dose.
Nominated by Once a cunt always a cunt