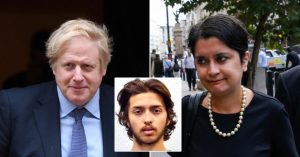 Shami Chakrabati is in need of another cunting.
Cunt is like herpes…we can't get rid of her – Admin
Appears that the twat is upset about extending the time Jihadi peacefuls have to stay in the clink. Since 2005, you get out after half your sentence, so Chukurbatty is very riled cos the evil Boris wants the murdering, traitors to do their full stretch. As usual, she cares not one iota for us poor bastards who, if unlucky, may find ourselves the target of a demented, goat fucker intent on causing murder and mayhem.
Thank you, Chuckurbatty for making my life more fun, if you and your cuntish friends have your pathetic, libtard way. Just as well I kept the sword canes. Pray I have time to deploy said blade if attacked by a knife-wielding goat fucker.
Nominated by Black biscuit