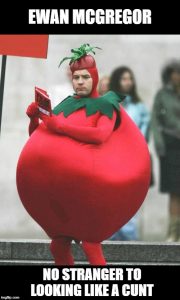 Ewan McGregor is a cunt for at least two reasons. The first, and most topical, is because he is playing the baddie in the latest in the long line of shite superhero children's films that it's become acceptable for retarded adults to like – "Birds of Prey".
The makers of said film have decided – as the lead is Margot Robbie, i.e. female – to brand it as some #metoo fuckfest to capitalise on the purses of the fans of screeching Rose McGowan-type harridans that cry rape the second the shine's worn thin on their Oscar and the money's dried up. Ewan has gone all in on this – referring to himself as the film's "villain and CHIEF MISOGYNER"…… you utter, utter, utter cunt. Basically, instead of a daft action film this is now men = bad, women = good.
https://screenrant.com/birds-prey-ewan-mcgregor-female-driven-proud-black-mask-misogyny/
The second, and less topical, is for the fact that he and his bum-chum Charlie Boorman decided to try and ruin motorcycling about 15 years ago, changing it from a pastime for law-ignoring psychopaths like myself into one largely for middle-class, doddering wankers with too much money and time on their hands.
They rode "around the world" on the prick's bike of choice, BMWs – ignoring the fact that most of the journey was done on ferries with the bikes safely tucked away while they quaffed champers on the First-Class deck – by themselves. Except for a camera crew and about 12 transit vans full of support staff. Next thing you know every midlife crisis tosser has gone out and bought himself one of the same godawful "adventure bikes" and three grands worth of matching jackets, poncing about on the roads of a weekend, getting in the way as they wobble round corners at forty MPH. Ewan (and Charlie) – you're a cunt.
Nominated by Cuntan the Cuntarian
Ewan McGregor deserves a planet sized cunting for being a preaching hypocrite. He has a new flick out right now, "Birds of Prey", and by all accounts, it's a flop. It's taken about $33 million worldwide in its opening weekend, which is really not good. In fact, an avid DC extended universe fan I know has told me that it's the worst opening weekend for a DC universe movie. Ever.
Anyway, leaving aside the shiteness of the movie, McGregor has been on the promo circuit, bigging up the movie and lecturing us all on misogyny and the importance of respecting women and all tha….wait…what? Ewan…fucking…McGregor. YOU are telling US that we need to respect women? You mean, like you respected your wife when you cheated on her and then dumped her for the other woman? Fuck off, you arrogant hypocrite! McGregor is the LAST person on Earth to lecture anyone about respecting women. I may have been married twice, but at least I've never cheated on either of my wives. That fact alone, in my opinion, already sets me above an adulterer like Obi Wan Ke-Knobhead. I don't need a lecture on misogyny from a jumped up twat like McGregor. I don't need to be told to respect women, by a man who couldn't show his own family any respect.
Fuck off McGregor. Cunt!
Nominated by Quick Draw McGraw