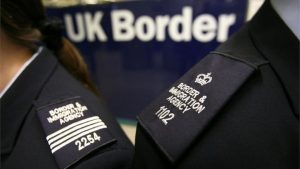 Most of you seem quite well educated and experienced in life. Our recent exit from the EU is by far a minor victory in a major challenge. I always looked at it with a view to sovereignty and our own laws (being able to uphold and enforce them).
Now take this scenario: As an employer, I interview applicants for jobs. I want someone who will fit in and not go against the grain of my organisation, or upset my current work force. I would not accept an applicant's reason for application to be "I need a job to move here and money to feed my kids". I want a genuine person who wants to fit in. Next we have periods of probation at work. The applicant must fulfil certain criteria and expectations and once they have passed this period, they have full employment rights.
Now under employment rights, I can fire you on the spot for negligence, or "If your presence in the workplace presents a threat to others or yourself" (Look it up, its in the law) I have done this three times so far and only once on the safety grounds issue. Now I will skip to the meat of the sermon. A lot of the problems we are now facing are not EU related. They are Commonwealth related. Yes, we do offer preferential treatment to Commonwealth citizens, but there must be a limit.
If you have a business that is employing illegal immigrants, you are exploiting your own kind and avoiding taxes to this government and people who offered you help. Maybe you should pack up your wealth and go home. Likewise, the criminals. Firstly, I have no idea why you were allowed in, but take a leaf out of my book. When someone invites me round their house, I do one of two things. Either refuse, or behave. I certainly don't shit on their carpet and expect them to feed me. I cannot understand why they are not automatically excluded on sentencing.
Now I have probably come across as a right racist cunt, so lets go a little further. We have an internal crisis of 'benefits Britain'. Families that have not worked for three generations, arguably hence the requirement for migrant labour. Well, they need a kick up the arse too. My grandparents idea of a holiday was to go hops picking, or fruit picking, to get a bit of pay and a bit of sun. The Benefit laws need to be changed so that these able bodied people can travel for seasonal work and have their benefits reinstated quicker when the job runs out. That's probably why they do not even try.
So that's a treble cunting on a fucked laptop, after a few beers.
Nominated by lord benny