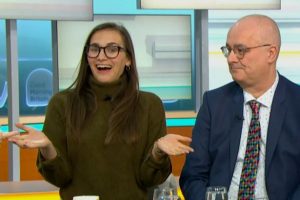 A biblical cunting for new turd on the block,'The New Statesman"s Grace Blakeley.
If any of you have been watching an annoying, white, woke princess on TV recently, it's a good bet it's uber cunt and leftie gobshite Blakeley. Although only 26, Blakeley is an expert on absolutely everything, trained in the same debating technique employed by ISAC's favourite cry baby Owen Jones. When Blakeley talks, you LISTEN!! And when it's your chance to respond, Blackley talks right over the top of you!!
I just happened to see her performance on GMB hosted by Ben "fuck face" Shephard and Kate (frayed around the edges but you still would) Garraway. The victim was LBC host Iain Dale who I think is a brilliant presenter and talks a lot of sense. Poor Dale was seated between some sand coloured man of the left with an unpronounceable surname and PRINCESS WOKE. It began with a sermon from Blakeley, with the sand man occasionally piping up, with Dale sitting listening to their utter bollocks until he made the fatal error of thinking they actually wanted to debate. Before he could finish a sentence, Blakeley was talking loudly over the top of him. Dale waited and tried again. This time the pig-ignorant cunt Blakeley started pulling faces, eye-rolling and waving her arms about (Owen Jones style) Sand man sprang into action as the two cunts tag teamed Dale!! All the while "fuck face" Shephard and Garraway just sat back and did absolutely nothing. Realising this was a fucking stitch up, Dale removed his mic and calmly walked off.
GMB should be ashamed of themselves!! Utter cunts!!!
Nominated by Quislings
It's high time someone cunted Grace Blackley.
How and why the media put this left-wing piece of shit on the television is anyone's guess, but instead of engaging in reasonable debate, she screams on like some harpy banshee whilst spouting her left-wing bollocks.
This cunt is like listening to fucking Vicky Pollard from 'Little Britain' and any debate is as pointless as watching sad has-been Terry Christian.
I just wish this horrible cunt would go away somewhere and die……
Nominated by Jack Jones