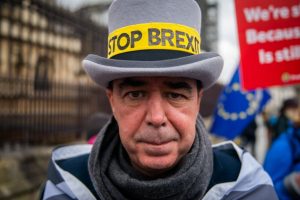 A wrong at the top of his voice cunting for the appropriately named arch Remainer, Steve Bray.
On the off chance that anyone in IsAC land isn't aware of who this loony gobshite is, allow me to explain. Bray is Mr Megaphone, the wally who's spent no less than 847 days at Westminster, bawling 'Bollocks to Boris' and other wildly inspiring slogans as part of an earache inducing crusade against Brexit. You're bound to have heard the twat's rantings disrupting interviews on the telly at some point.
It seems that Braying Steve has finally admitted defeat, and says that he's hanging up his megaphone for good. Mind you, there's a difference between admitting defeat and accepting it. He claims that 'there's still hope' of staying in the EU, because according to his take on things, a majority of people voted for Remain at the general election. Apparently we're all going to be 'in hell'; after Brexit happens, 'we're all losers'.
Well Steve, you're certainly a loser, you insufferable cunt. Now take your medication, and go for a lie down in a quiet, dark room for a while. Oh, and make sure that your megaphone stays hidden away, otherwise, as sure as God made little apples, somebody is going to ram it up your arse.
Hopefully sooner rather than later.
Nominated by Ron Knee