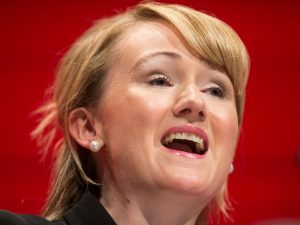 Rebecca Wrong-Daily
'Good afternoon. This is IsAC's political correspondent Ron Knee, speaking to you from outside the Labour Party headquarters in London. After suffering its worst electoral setback since 1935, the race to elect a new party leader could be said *snarf* to be gathering Momentum *snarf*. I'm joined today by Miz Rebecca Long-Bailey, widely seen by many as the front-runner in the leadership race'.
'Aye oop, lad. Call meh Rebeccah'.
'So Rebecca, is it time for Labour to elect its first woman leader?'.
'Well, Rob. Ah feel that uz just need ah change uv uz image for this day an' age, sumbody wi' ah bit uv female get up an' gaw yer knaw like. As th' blesséd Meryl of Streep put it,"if yew want summat said, get a blawk; if yew want summat done, get a lass". Or summat. Like'.
'I see. Then you'd welcome a challenge from, say, Emily Thornberry or Diane Abbott, as well?'
'Ha ha ha *whinny* well *ahem* yer knaw, Emily, ah mean, ah luv 'er an' that, but honest, she's SUCH a snob like. Diane? Well, ah luv 'er ta bits, but t' dozy twat can't put two an' two together, an' she's got t' fashion sense uv ah moose. Ah mean, that HAIR, and them shoes on pollin' day. Ah mean, them's borth Dear Comrades an' Sisters, but ah wuddn't trust either lard ass to run me bath'.
'Right. Let's talk a bit about policies. Labour took a kicking in the recent election, with its core vote widely rejecting its far, some would say loony, left programme. Would your leadership herald a change of direction to try and win back their trust?'.
'Absoluteleh not Rod. Let me mek this absoluteleh clear. Ah'm t' continuiteh candidateh. Mah people 'ave come up wi' this slawgun; "Corbyn in ah skirt". Catcheh in't it?'.
'So you'll be Corbyn Mk 2? Have you learned nothing from the election?'
'Well, it tin't uz wot needs ta learn from t' voters Reg. It's t' voters wot need ta learn from uz. Dern't quote me on this, but *whisper* they're as thick as pigshit. Didn't knaw wot wuz good fer 'em. But they've woken themselves up quick an' all since t' election, ah'll tell ya. They now see Johnson for t' racist, xenophobic, misogynistic pig that 'e is, 'im an' 'is capitalist running dog lackeys an' all'.
'Put some meat on the policy bone for us then, Rebecca'.
'Well Ray, let me mek this absoluteleh clear. As ah long time supporter an' close ally of Jeremeh, it'll be mah job ta enshrine 'is legaseh, an' ta ensure continuiteh uv 'is vision fut' future. As Jeremeh said, we wun t' policy argument, but t' people didn't get uz message. But ah'll stand, an' let me mek this absoluteleh clear, for nuthin' less than full blooded sawshellism, red int' tooth ant' claw. Uz'll overthraw t'capitalists in tawtal. Uz'll re-nationalise everythin' that moves, an' make sure nuthin' ever moves again. We'll overthraw t' system; shut down t' Commons an' Lawds, and elect ah Politburo. All ministries will be absorbed inta ah single Superministry of Truth, Enlightenment an' Progress. Uz'll spend trillions on bribes ta immigrants, ethnics, layabouts, spongers and t' LGBT communiteh ta keep 'em on board, all ta be paired fer by eye-watering tax rises ont' top 100% of tax payers int' countreh'.
'Oh come on! This is ludicrous pie in the sky. The voters will never stand for such nonsense!'.
'Come t' revolution, t' voters'll do as they're bloody well tawld. T' people's flag is deepest red…'.
'Yes thank you. This is Ron Knee, for IsAC,returning you to the studio'.
Nominated by Ron Knee