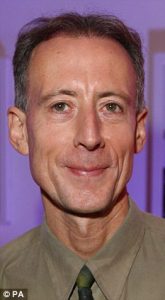 Oh, what a gay day to offer a tinsel and glitter cunting of that elderly poofter, the self-righteous, publicity hungry, Peter Tatchell.
This time the great man is swinging his handbag at the BBC – not because of their political bias, but because a BBC1 comedy show 'Gavin and Stacey' is going to use the word *faggot* in the context of a song.
https://www.petertatchell.net/media/bbcaccusedofhomophobia-2/?__cf_chl_jschl_tk__=3c2747f62c2c7b29820c34d21b4fe4f2f58024d9-1577080651-0-AVtp1Md35WtjcDN430ivapi-tLZ912UCHudKLB1OzrxGrL6JXiyXwnKVDbhuiTVsOwJPf-fTyguW87T-lR-Hrin4Ipt6g3w7iTVD0LZl6DuUNx0BwaW7Kf_QMuyuBkwcq9z0POgn-fzuRIufdmhj_JLlacXhCD_oTDNbaIdMR_tbrNeml1n2uxiMC-rvRO3KgFg71eL_HrUN2sArpzbeKk2alDpF3AWKXHk7AYJusbesXY4Ii7-CloASh8Rv_ftQUE0YvvnOEdmIstL5YIlYdNX2CGQZrcQZhPSgwi14-toJ9kdK_BUMVnU4wrZuXKcaZA
"The BBC wouldn't use the n-word"", the old queen whines. No ducky, but then I am not the Director General. Just try me if I were.
How the mighty are fallen – once it was mincing down the street to arrest foreign dignitaries, now it is sniping at some elderly comedy show on the telly.
Peter dear, fuck off and remember another song sang often at Christmas – "Nobody Loves A Fairy When He's Forty", and despite all the make-up it is obvious you are well past that…well past.
Nominated by W. C. Boggs