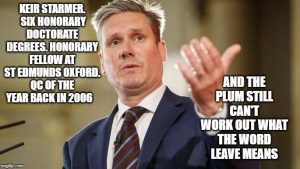 A "what's a million between friends, duckie?" cunting please for the other Dame of North London, Keir, as pure as TCP, and blue eyed boy of the Blairite set.:
https://www.standard.co.uk/news/politics/sir-keir-starmer-wikipedia-battle-millionaire-labour-leadership-a4317411.html
This wealthy lawyer, currently preparing to bid for the leadership of the Titanic of Westminster, has been doing a Chuka on his Wikipedia page, and is determined to present himself as the son of a horny-handed son of toil.
Whoever heard of a poor lawyer, especially a "human rights" one?
What with Slubberguts Thornberry hiding the fact that she is Lady Nugee, it seems that what Labour will get is yet another actor, and will probably still fuck up yet again.
Nominated by W. C. Boggs