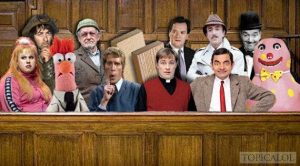 A nom please for idiotic juries. One in particular; the daft cunts who have just finished sitting in Inner London Crown Court, during the trial of a load of dopey Extinction Rebellion muppets.
Now while they did eventually find these fuckwits guilty of gluing themselves to a train – or as it's more commonly known stopping people who actually work for a living being able to do so – they had to virtually be told to find them guilty by the presiding judge, and when they delivered their verdict it was accompanied by a load of virtue signalling, hand-wringing guff about how sorry they were and how much they supported their cause.
So bang goes the first opportunity of sending some of these cunts down for a decent prison term as an example; not only have they got pissy suspended sentences, they will now be able to blather on about how virtuous they are and how much support they have. Expect many more protests by these dimwitted wankers in the future; be interesting to see how juries respond to the first cunt caught up in one who will hopefully knock some hippie teeth out…..
Nominated by Cuntan the Cuntarian