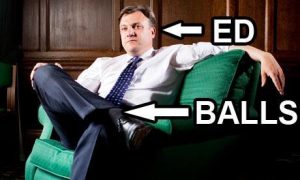 A Portillo-like, BBC cunting for former MP, camp dancer, joke Chancellor (not quite so funny as McDonnell, but…) darling of the fairy Blairites, Edward Balls, who seems to be remodelling himself as a *personality*, with all the personality of a broken plastic umbrella. Mr Balls shows you how to make bricks without straw, eggless omlettes and how to be Charles Pooter in 2020.
He is an empty vessel that makes a deafening sound.
Just after Xmas it was announced that Jock Balls was becoming a gym instructor (I can imagine the pansy Blairites going weak at the knees as they salute "coach".). Last weekend he was the cover subject of a gushing tribute in the Daily Express Saturday magazine. Now he has jumped on the BBC bandwagon, with his own BBC2 series:
https://www.bbc.co.uk/programmes/articles/11rgzgfmpKRz53kWvJtfnB4/travels-in-euroland-with-ed-balls
Yet more paid-for-by-us jollies overseas (anything to keep away from Sugartits Cooper, I suppose), and – sure to bring a blush to the cheeks of our friends Russell-Moyle, Ben Bradshaw (ex BBC) and Gaylords Mandy and Adonis, – a gratuitous piece about "buttock massage" (ooooh, get the madam!)
If James Purnell becomes DG of the BBC, expect a lot more worn-out old politicos to leap aboard the bandwagon. Perhaps Emily and Jess could become "Loose Wimmin"?For the many, not the few.
Nominated by W. C. Boggs