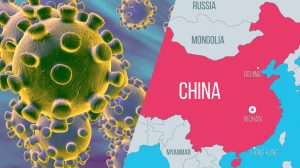 Yes, sorry to say snowflakes, but it doesn't look like everyone's favourite villain Trump is going to end the world, but we might have an apocalypse on our hands, thanks to to Chinese, and their filthy, backward diet.
The world is holding its breath as attempts are made to stop the coronavirus becoming a pandemic. The outbreak originates from the Chinese city of Wuhan, and was probably started by the locals eating bats from an illegal meat market. Is there a creature on earth that these cunts won't eat, or use as some stupid potion or aphrodisiac? Add to that the fact that they think everything tastes better if it has had a horrifying painful death, these cunts are truly the sworn enemy of nature.
Inevitably, nature has decided to fight back, like it tried with bird flu, and has weighed in with a deadly virus in the hopes of thinning the fuckers out. The only problem is, the Chinese are pretty much like a virus themselves, as they have colonised the world on the quiet, with a fucking Chinatown everywhere. As they tend not to integrate, the chances of catching it down the pub are nil, but if you're on a train or a plane, then one of these coughing all over you doesn't look too good. Cunts.
Nominated by Gutstick Japseye
What is it in what brainless these cunts have that makes them think they can eat Bats, Cats, Rats, Rhino Horns, Bear and Tiger Penis, Monkeys Jellyfish and snakes as standard Cuisine and for them not to be struck down with a disease.
I don't give a personal fuck how many of these cunts are taken out from this in Chinksville, but I do for the ones that travel overseas and take the infection with them. If a household dog or cat cant enter a country without doing time in quarantine, given they are 90 percent cleaner than chinese – how is it they can just keep walking through airport doors with authorities thinking a fucking scanner will detect them?
They dont know they have it for a few days after they land? Even more the reason to stop them at the door.
Nominated by King Cunt