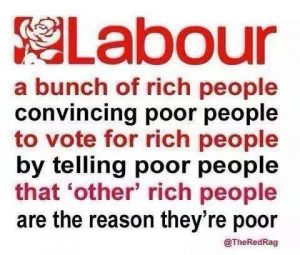 Following on from Gutstick Japseye's excellent nomination of John McDonnell, I want to nominate the entire Labour Party.
As we all know, we have yet another vote coming up, a General Election this time, and as usual the parties are all out making promise after promise that frankly, I find impossible to believe after three-and-a-half years of lies from our elected 'representatives' in parliament.
One thing that's boiled my piss though, is the recent revelation that Corbyn is preparing to announce an inquiry into Britain's colonial past. Words like, 'abuse', 'apologies' and even the most egregious of all, 'reparations', have been bandied about. Holy Jesus Christ. I've asked these questions many times before, now I have to ask them again. Who gets the apology? And who gets compensation? Because as I've pointed out so many times before, every single person who is owed an apology and compensation, is long dead. As are those are who ALLEGEDLY carried out abuses. Not one single British person alive today owes anyone an apology for any crimes that MAY have been committed by British people two or three hundred years ago. We certainly don't owe them a penny in compensation.
This bullshit is being done purely to pander to the various minority groups that Labour now sees as its voter base. Labour has spent more than two decades demonising and neglecting its traditional white working class voter base. The only white people who vote for them now, are the effete left wing middle classes who despise Britain, and those brain dead cretins who vote Labour simply because "my parents and grandparents voted Labour. They're dead now, but they'd hate me if I didn't vote Labour".
Labour are no longer a working class party. This bullshit, and the fact that so many working class people are planning to vote Tory at the election proves it.
Nominated by Quick Draw McGraw