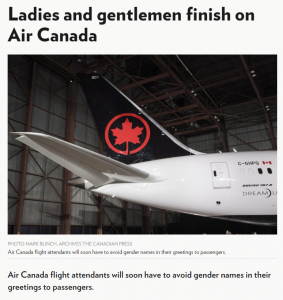 Air Canada is to be cunted as it intends to use gender-neutral terms on flights, instead of greeting passengers as 'Ladies and Gentlemen'.
In a gender neutral move to be more inclusive, the Canadian airline has decided to ban gendered pronouns from its scripted greetings and will instead welcome "everybody" or "tout le monde" during in flight announcements.
"We will be amending our onboard announcements to modernise them and remove specific references to gender", a spokesperson for the airline told CNN news partner CTV.
Earlier this year, the Canadian government began to allow citizens to select non-binary 'X,' rather than male or female as their gender identity, on their passports. Airlines for America (A4A), an industry trade group, also announced it will expand gender options to passengers booking flights to include "unspecified" and "undisclosed."
As we all know, this lunacy is not confined to the US or Canada (with its soy boy, cuck prime minister/prime cunt), one of the top grammar schools in Britain has already banned teachers from describing pupils as 'girls' over fears it will offend transgender pupils. Altrincham Grammar School for Girls in Manchester previously wrote to parents to advise them of the changes, which will see staff now use "gender-neutral language" when addressing, or talking about children. Girls at the 1,350-pupil school will instead be addressed as 'students'. The change followed a diversity drive to encourage other schools across Britain to stop using the terms 'boys' and 'girls' to describe pupils.
Back in 2017, the Government-funded 'Educate and Celebrate' organisation – that is backed by Ofsted – sent out a book to 120 'best practice' schools that suggests new terms to address young children. The book, called 'Can I Tell You About Gender Diversity?', features a fictional story about a 12-year-old boy transitioning from male to female. It encourages teachers, parents and pupils as young as SEVEN to address children who identify with the gender they were born as 'cisgender'.
Why can't these schools, companies etc… grow a collective backbone and tell these gender deviant cunts to piss off.
Nominated by Mystic Maven