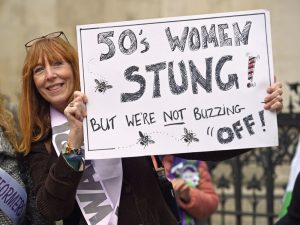 WASPI…I know these fuckers have been cunted before, but there's nothing like another deserved cunting.
Yesterday (03/10/19), the high court ruled against WASPI, in a case where they took the department for work and pensions to court, arguing that changing their state pension age from 60 to 66 "unlawfully discriminated against them on the grounds of age, sex and age and sex combined". I do not pretend to know what that means.
The courts ruled that it wasn't an issue for them as it was agreed within parliament and they're well within their rights to legally change the pension age. It was a matter for the public and their MPs.
This however, didn't stop flabbott sticking her oar in, "disappointed to hear about todays decision regarding the WASPI women. I will continue to support the WASPI Campaign in their fight against pension inequality". I don't see what inequality there is, about changing women's state pension age to equal that of men? If anything the inequality is that they still currently get to retire a year earlier.
Yet another case of wimmin desperately wanting equality, but only if it benefits them.
Nominated by elboobio