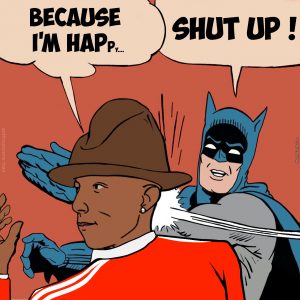 A vocodered and auto-tuned cunting please for musical cuntlord, Pharrell Williams.
For those fortunate enough to be blissfully unaware, this cunt is responsible for the infuriating corporate staple song 'Happy'. Fuck off if you expect me to post a link to that pile of simpering vocal wank. I still have night terrors after seeing BBCunts Clare Balding and Bill Turnbull jive out to this during a segment for the 2014 Winter Olympics.
Pharrell Williams is already a cunt of significant standing due to i) being a 'rapper', ii) being one of the public faces of Killary's 2016 prez bid, and iii) being musically involved with some of the biggest cunts on the planet. But this wankstain upon life's rich tapestry has gone even deeper into the fabric by suddenly denouncing his collaborated shite 'Blurred Lines', which he performed with one-hit wonder and suspected closet sex offender, Robin Thicke.
https://www.bbc.co.uk/news/newsbeat-50052155
Williams and the Thicke cunt trousered tens of millions on sales of Blurred Lines, thanks of course to the mornonic modern music masses happy to rock out to lyrics which glorified sexual assault laid over a fucking biscuit-tin beat. Yet we now see Williams in this post-#MeToo, virtue-signalling landscape publicly shaming himself for releasing the shit known as 'Blurred Lines' for online backpats and a pre-emptive adjusting of his liberal social standing. Lest history forget that this born-again 'liberal' cunt is the fuck-faced fucker who has built his entire fortune on charting highbrow, Aristotelian concepts such as 'hoes', 'bitches' and 'fuckjars'.
Will the fucking cretin make a meaningful gesture, like donate the millions of dollars he earned in royalties from Blurred Lines to some wimminz charity? Of course not.
Williams says that he is 'embarrassed' by the 'misogyny' of the lyrics in the song. Perhaps he should be more embarrassed that he wrote such turgid shite, in addition to the embarrassment of that crock o'faeces was proven in court to have ripped off elements of Marvin Gaye's material.
There is a special place in hell for spineless, talentless cunts like this (see also: Will.I.Am). And I would happily spend a busman's eternity down there myself, if it meant I could forevermore shovel the white-hot coals for Beelzebub himself to adorn upon the scrotums of high-ranking cunts like Pharrell Williams.
Nominated by The Empire Cunts Back