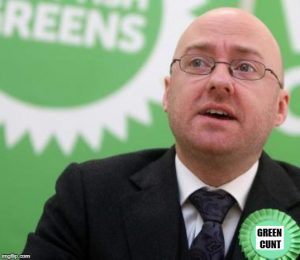 Patrick Harvie is complete cunt!
This cunting has been coming for a while now. He's the co-leader of the Scottish Greens in Holyrood and trust me, the Scottish Parliament is full of shitting arses, but he's almost the biggest cunt of all. Always banging on about conservation and saving the environment. Well maybe he should start by recycling the shite he speaks before he starts vomiting even more socialist crap.
I listened to the ginger goblin the other night saying, "There's three years worth of young people that didn't get a chance to vote in the EU referendum last time round, because they were too young". Well fuck me, it doesn't take a genius to work out whenever there's a vote/referendum there'll always be people that are too young to vote.
Yet another cunt that's hell bent on frustrating the Brexit process.
Nominated by EVILSCOTSMAN