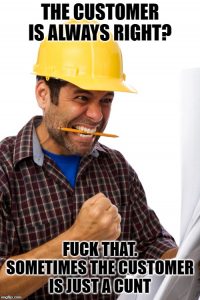 I would like to nominate cunt customers.
There's about 101 shit TV programmes about bad builders, usually fronted by that cunt Nick fucking Knowles. What there is a massive lack of is fucking terrible customers tv progs.
I've been in construction for thirty years and learned a lot from the older blokes who passed more than knowledge of laying a brick, in regards to fucking bad payers. I've watched a few of these fucking dire productions, and the majority of the clients are transparent as fuck.
They had an idea (because some cunt at work had it done and it looks lovely) so they want it done. They couldn't afford it in the first place, but still want someone to turn up, give them a reasonable quote, start on Monday and expect the contractor to pay for all the materials. Then when the contractor asks for the agreed interim payment, they act like they've been asked a question in fucking Russian. Why these people on this shit TV are left in the shit is because they didn't pay the bill. And Nick Knowles should be hung for his part in this farce.
Sometimes customers can be utter fucking….CUNTS.
Nominated by Candygram for mongo