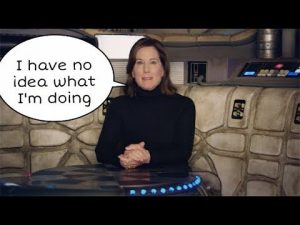 A nomination for woke twat Kathleen Kennedy, who took over from George 'Jabba Neck' Lucas after selling Lucasfilm to Disney. Since then she has managed the feat of unravelling the most valuable intellectual property in cinema history by not having a coherent idea of where to take the series, hiring and firing directors, assembling a group of SJW in a 'story group' who have little vision, idea of dramatic tension, character arc or what made the earlier films so popular.
In Abrams they found a hack who will simply remake the earlier films without any charm or flair, while introducing his own pointless in-jokes and gimmicks.
Kennedy has flailed around from one disappoint to the next while sales of toys, books and games plummet, as a new generation looks to stuff like Marvel and Pokemon, and the much-hyped theme park, 'Galaxy's Edge' threatens to go bust.
Kathleen Kennedy is a twat, a cunt, a gormless cretin and an SJW surrounding herself with sycophants and soyboys, like Rian Johnson, who killed a golden goose.
Nominated by Cuntamus Prime