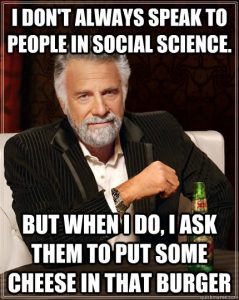 A nomination for humanities and social science graduates.
To quote the great physicist Dr Richard Feynman 'the proliferation of humanities courses on campuses is in direct proportion to the dopiness of the students'
I believe that to be borne out today. It was true during my time at university and it was true in Dr Feynman's era.
The truth is clear; STEM subjects are fucking hard. You have to be very bright to do well, and you will face a lot of ferocious criticism if you propose something that is not backed by mountains of research. The maths tripos at Cambridge is said to be the ultimate and most rigorous intellectual challenge available to an undergraduate in the UK.
Compare the rigour and level of fearsome intellect required for physics, engineering and the like to the humanities, especially the postmodern crap fed to students nowadays. Gender wank, according to Camille Paglia, was invented by mediocre English literature academics who wanted to analyse white male texts through feminist and postmodern criteria. How this gets anyone a fucking job, who knows, but it became a dogma. Students parrot the correct opinions and get rewarded. Worse still, this wank will infest seemingly unrelated courses via 'modules', just to boost the ego and bank balances of useless pedagogues. Want to be an illustrator? Heres a module on the frankfurt school of critical theory. Want to work in radio or theatre? Write an essay on the poetry of Carol Ann Duffy and how fucking great it is.
Outside of the STEM fields, higher education is merely indoctrination. I have been there, and have heard from scores of people about what they are force-fed at myriad universities. Now that the critical faculties of prospective students have been obliterated by an education focused on values rather than facts, is it any great wonder we see cry-ins, safe spaces, trigger warnings and bans of admittedly tasteless and stupid songs (Robin Thicke's "Blurred lines")?
It is an intellectual and moral crime to produce such a demographic of idiotic wimps. The arts and humanities are in desperate need of massive reform.
Nominated by Cuntamus Prime