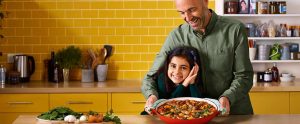 A nomination for Tesco. Just heard their latest ad on the car radio, wherein some precocious little gimp says to her father, "Daddy – I don't want to eat animals any more".
Now obviously the correct answer to this would be, "Eat your fucking burger before I slap that smug grin off your face", but today being what is is of course, the soy-faced prick starts banging on about he now use vegan "sausages" in his casserole to appease the spoilt little shit stain.
That made me shout angrily in the car – worse was to come when I got home and turned on the TV, to see a live-action version of the same ad – and guess what, the white dad has a burka-in-training for a daughter as well!! No fucking way there could possibly be two white members of a family these days. No doubt the dad's a trans or a poove as well, just to tick a few more boxes.
So fuck Tesco and their shameless jumping on the brainwashing bandwagon.
Nominated by Cunting virgin