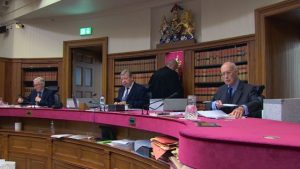 A little unprecedented, as I don't really know who the biggest cunt is in all this and therefore can't nail down the precise cunt I'm looking for……so we'll go with, Scottish Civil Judges are cunts.
The news is that three Scottish judges have deemed the prorogation of parliament to be unlawful. Since when has making tactical political decisions been against the law?
Let's break it down a bit.
Number one: Scottish judges may be a tad biased, be it that a lot of Scotland's elite wish to remain within the EU. So it's not surprising that they have found fault with the timing.
Number two: Remainer MPs immediately demanding that because three (obviously not biased) judges have come to the conclusion that this is against the law somehow, we must now reconvene parliament immediately. More hypocrisy. It's pretty obvious Boris tactically chose this route to help with his mandate of leaving the EU, not too dissimilar to the tactic remainer MPs used to reject a general election. If we're going to say parliamentary actions are illegal because the timing isn't right, then fucking nothing that goes on in that shit house would be legal…I'm not sure it is anyway.
Finally, why have these judges not decided that it's entirely unlawful to create laws based on selfish notions? The fucking Remainers are literally making laws up as they go to reverse the will of 17.4 million people. I'm surprised they haven't passed a law that means their position as an MP can no longer be contested.
Boris has used one slightly bent tactic to try gain some leverage, yet Remainers have literally used every trick in the book, but yet they're the ones who are outraged? Fuck off. Maybe this cunting should have been for Remainer MPs. But the lines are starting to be blurred.
I still think those three judges are cunts, they're supposed to uphold the law, not make a mockery of it.
Nominated by elboobio