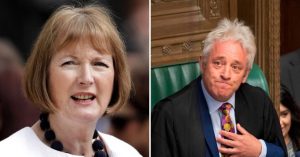 There's good news and bad news on the political front this week, cunters. The good news is that arch Remoaner John 'Shortarse' Bercow is to resign from the post of Speaker of the House of Commons. The bad news is that Harriet Harperson wants to be his successor.
The insufferable D-lister Harperson has been creeping around the corridors of power for decades, without, as far as I can see, ever achieving anything really significant or memorable. Indeed, the most memorable thing about her is that sour expression of perpetual disapproval which is pasted onto her lardy mug; that, and the condescending, sanctimonious cant she comes out with.
Arguably, Harperson's most notable 'achievements' have come in her pursuit of gender equality and openness in government. Amongst other things, as Wimmins' Minister in T. Bliar's first government, she promoted winter fuel payments for the elderly. Oh, but the 'gender equality' warrior's policy was found to breach EU discrimination laws, on the grounds that men had to wait five years longer than wimmin to receive the payment. Nice one.
Harperson has supported all wimmin shortlists for parliamentary elections, because 'men can't be left to run things on their own'. She also stated that the collapse of Lehman Brothers might not have happened if it had been 'Lehman Sisters'. No bigotry or sexism on her part there either. She's also expressed support for all-black shortlists. Yeah Harriet, we really need more MPs of the calibre of Fatchops Lammy, Flabbott the Hutt, Dawn Butler and Fiona Onasanya to represent us and 'enrich' the House. She's in favour of open government apparently. Except when it comes to the matter of MPs' expenses. In 2009, she proposed a rule change to exempt expenses from enquiries under the FoI Act, but the proposal was booted out. Later, it emerged that Harperson herself had, er, repaid 'wrongly claimed' expenses. Quelle surprise.
As a maker of law, Harperson has demonstrated a failure to lead by example, having clocked up a series of convictions for speeding, and for hitting another vehicle whilst using a mobile phone when driving. Do as I say, not as I do. I could go on. Support for Phony Tony's war in Iraq. Disloyalty to Gordon Brown, reportedly referring to him as 'useless'. Alleged association with the Paedophile Information Exchange ('nothing to do with me Guv'). But I think you get my drift.
Bercunt has indeed set the bar low for his successor as Speaker, but I think that Harpy Harriet could still get under it very comfortably. Come on Harriet. Strike another blow for gender equality and show us that you could be just as lousy in the job as any man.
Nominated by Ron Knee