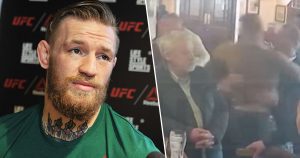 I'd like to nominate Conor McGregor.
I dont really watch MMA. I know a few people who do and couple of those who have competed in televised fights, but they were decent chaps. I cant be bothered with the UFC rubbish though. The 'trash talking ' and pantomime is just a load of handbag swinging to fire-up an audience of Jack the lads who work in offices.
The prat who typifies this most of all is Conor McGregor. He comes across as obnoxious and arrogant. Many of his fans say it's all an act, to which I reply 'is he a fucking actor or a fighter?'
It now seems the nastiness is genuine, after sucker punching an old bloke in a pub after the man refused to drink McGregor's branded whiskey. McGregor's response was to wait until the old man's head was turned and to punch the side of it. What a fucking baby and a coward.
Many have pointed out how the punch looked like it barely phased the victim, but it's quite clear the best place for this idiotic thug is behind bars.
No doubt scores of vain twats who wear tattoo sleeves and their baseball caps backwards, and relentlessly post selfies to instacunt will maintain that the old man shouldn't have disrespected McGregor, but they are borderline mongs themselves, dressing like twelve year-old boys. They are wrapped up in the vacuous existence exemplified by McGregor, mediocre morons endlessly promoting themselves and their disgusting 'skank-ho' Kardashian-clone cunts of girlfriends.
I hope to God they all succumb to thermonuclear variant of AIDS, except McGregor is first mauled by a mobility scooter.
What a fokkin' cont.
Nominated by Cuntamus Prime