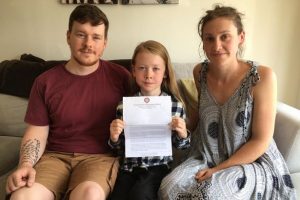 A nomination for Alfie Howard-Hughes and his twat of a mother.
I read about him in The Times today – he has hair all the way down his back and has been told that he must get it cut if he wants to enter Colchester Royal Grammar School. His mother has said that if necessary, he will wear it in a plait, a bun or a hairnet, because he 'absolutely does not want it cut.'
Alfie has said it is "a part of him", and is determined to turn up on his first day of school with his hair still intact.
"It's never been a thing in my mind.. it has always been there. My hair is a part of me. I don't just want to do it so I can keep my hair but I want to do it for other boys who have long hair."
His mum, Katy Cox, 33, has called the policy "ridiculous" and accused the school of making "carbon copies" of the children.
She said: "Rules keep our children safe and that's important but some rules need to be challenged otherwise we would be living in a cave.
His mum added: "I think I remember watching other children screaming when they had their hair cut and I thought I would never do that to my child. I wanted to leave it up to him when and if he wanted his hair cut and that never came.
"It's not my hair it's his hair, it's part of who he is." etc etc etc….
Well fuck off, the school dress and appearance code is set and if you don't like it, then he can go to the local comprehensive and probably get the crap kicked out of him for looking like a twat. His parents will probably take legal action for breach of the spoilt little bastard's yoooman rights, and sadly, will no doubt win.
Nominated by Mystic Maven