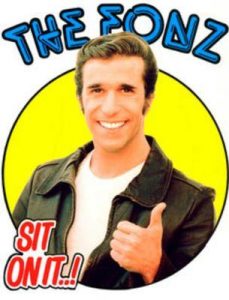 A nostalgic Cunting.
The Fonz.
For forty odd years I've nursed a deep and abiding hatred for Arthur Fonzarelli. He was a character in a dreadful American programme called " Happy Days". It involved "The Fonz",a weedy looking,rather sinister 40 year old "biker" who apparently preferred the company of school children. He used to hang around some kind of youth club with his adoring teenage fan club,hitting the juke-box and saying "EEEH" like a special-needs escapee from the Sunshine coach…or "Sit on it" which I rather suspect was an instruction to one of his barely-teenage acolytes….what the "it" that he wanted them to sit on was never made clear,but I can take an educated guess. The filthy predator had even inveigled his way into the home of two of his young admirers,where he apparently lived rent-free by also charming the pants off the old,fat sexually naive Father and Mother.
I don't really care about his rather distasteful desire for young meat, it was probably all the rage back then amongst those with a theatrical bent,just as it is now. What fucked me off about the greasy little Pisspot was that he stole screen time from Suzi Quatro all dressed up in leathers….lovely stuff she was back then…not nowadays,obviously..she'll be a wrinkly old biddy now.
Fuck Off.
Nominated by Dick Fiddler