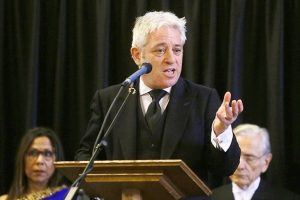 John Bercow must again be most grievously cunted, quite possibly "on a loop," so great is his cuntitude.
He thinks it is not very sensible to vacate the chair while matters of such great importance are to be debated; this is what he said in Washington yesterday. The little runt obviously sees himself as president of the world; so with any luck, there will be a fight to the death between him and B. Liar. Then between two other world-class cuuuunts, Macron and Muffley Merkel.
Quite frankly, the only chair I want to see this shrivelled-up little cunt in is the sort that graces a number of penitentiaries in the USA. Sit down and shut up, you orrible little cunt, I'll flash my ECS card at the gates, and throw the switch. Bastard vermin scum.
Nominated by HBelindaHubbard