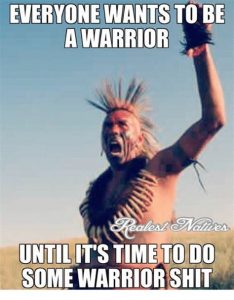 "Heroes and Warriors".
I'm sick of the hyperbole employed by sports commentators and reporters. I don't just mean football, I've heard it many other sports…even fucking darts and snooker players being described as "warriors".
However,football seems to be the most extreme example… " He's a warrior,a midfield enforcer" which normally precedes the warrior/enforcer falling to the floor,rolling around while screaming like a girl after an opposition player as much as farts within 5 yards of him.
" The Gods blessed him with a magical left foot"….well,good of them,no doubt,but they "gifted" just about everyone with a left foot…."magical",possibly not,but still capable of kicking a ball which is pretty much all his does.
" The greatest comeback since Lazarus"…a phrase so overused lately that I suspect that it is beyond resurrection itself.
"If you cut him,he'd bleed red/white/blue"…Oh,yes…until he was offered a massive pay rise by some club that played in green/black/yellow.
"A loyal club servant committed to taking the club forward"…..his agent couldn't get him the move to a better-paying club so he's going to run his contract down until he can take advantage of the Bosman ruling.
" The day that the whole city has been waiting for"….no,most of the "city" won't give a shit apart from wondering if their local is going to be trashed by a group of yobs in footy shirts,or will they be attacked for wearing the wrong colour bobble-hat.
" He's an intelligent footballer"…now this is the worst,sheer bollocks…all footballers are as thick as pigshit or they'd have opted out of football as children as taken up a Real Man's Game…..RUGBY. (Sorry,did try and resist the urge…nah, I didn't really)
Fuck Off.
Nominated by Dick Fiddler