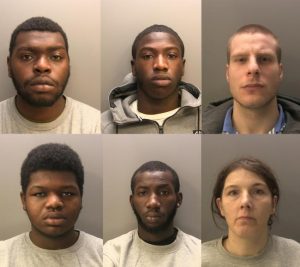 Apparently 'county lines' refers to the vile practice whereby city-based gangs seek out rural areas to flood with hard drugs.
Allow me to introduce Michael Karemera, Dean Alford and Glodi Wabelua, aka 'The County Lines Gang'. These scum-sucking vermin were jailed for thirty years between them at Woolwich Crown Court in 2016. In addition, they now have to cop sentences for human trafficking offences under modern slavery laws, having forced kids as young as fourteen to smuggle and sell heroin and crack in Hampshire.
Two of these despicable wasters hail from London, and the other from Canterbury. IsAC regulars will not require the regulation three guesses in order to establish the ethnicity of these charmers.
If I may paraphrase the great Lorenz Hart, I am enriched, bothered and bewildered. A joint statement was anticipated from David Lammy, Dawn Butler and Diane Abbott on the many advantages of multiculturalism and diversity, to counter the unfortunate effects of stereotyping that this case may engender. It is now understood however that this will not be forthcoming in the foreseeable future.
Nominated by Ron Knee